Talbots deal on hold for now, shares plunge
Shares of Talbots Inc fell 41 percent on Friday after the company said that exclusive negotiations with Sycamore Partners had ended without an agreement for the private equity firm to buy the women's apparel retailer, which can now look for other deals.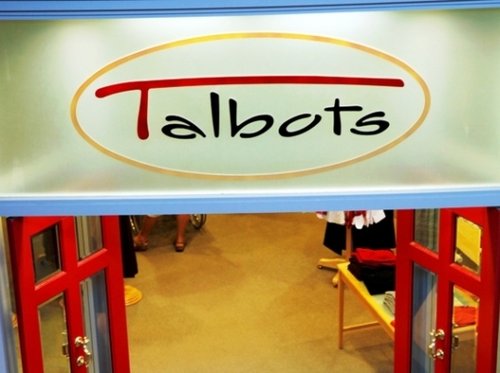 Talbots
Talbots said it was open to pursuing a transaction with Sycamore at $3.05 per share, which would value Talbots at around $215 million, if Sycamore could provide certainty that it can obtain financing and close the deal. Talbots said Sycamore was not ready make a deal at this time.
Sycamore declined to comment. The parties' exclusivity agreement expired on Thursday.
Talbots lost about $73.2 million in market capitalization on Friday, with shares falling $1.05 to close at $1.51 on the New York Stock Exchange.
Founded in post-war Massachusetts, Talbots built its reputation on traditional pearls-and-classics fashions, but today is widely panned as dull.
Efforts to reach out to younger shoppers failed and alienated its core shoppers, women over the age of 35. Talbots has been consistently lagging peers Ann Inc - owner of Ann Taylor and Loft stores - and Chico's FAS Inc, and its sales have fallen for five straight years.
Talbots, which has about 540 stores in the United States and Canada, posted a slightly higher adjusted first-quarter profit on Friday as it worked on managing discounts, costs and inventory.
DETERIORATING FUNDAMENTALS
Sycamore, which is Talbots' second-largest shareholder with 9.95 percent of its shares, made the $3.05 offer earlier this month, up from a $3 bid it first made in December.
"When a large shareholder engages in the time and finances to do due diligence and ends up not proceeding forward, you have assumed (they're) not even going to get the $3.05," said Eric Kuby, chief investment officer at North Star Investment Management Corp in Chicago.
Kuby usually is a long-term investor, but sold all his shares in Talbots over the past year and a half.
Total outstanding debt was $197.9 million as of April 28, compared with $86.8 million a year earlier.
"Based on our estimates, Talbots has enough liquidity to continue operating for at least the next 12 months," analyst Jennifer Davis of Lazard Capital Markets wrote in a note.
Davis wrote that even as the company's fundamentals deteriorate, Talbots has options like borrowing more money or selling its credit card receivables.
The company is also looking for a successor to departing chief executive Trudy Sullivan, who unsuccessfully tried to reignite growth at the chain with new store formats and cost cuts.
Industry-watchers including consultants and investors have long said the company should go private to fix its problems.
Talbots has closed 90 locations so far and plans to close about 110 in all.
Talbots' board is being advised by Perella Weinberg Partners and White & Case LLP.
Talbots said that for the fiscal first quarter ended April 28, net income rose to $1.09 million or 2 cents a share from $739,000 or 1 cent a share a year ago. Excluding certain items, adjusted earnings from continuing operations rose to $6 million, or 9 cents per share, from $5.3 million, or 8 cents per share, a year earlier.
Sales fell 8.4 percent to $275.9 million, due in part to store closures. Comparable sales, which look at year-over-year changes at existing operations not slated to close, fell 3.8 percent.
© Thomson Reuters 2023 All rights reserved.