Next sales boosted by good weather
By Rhys Jones
LONDON (Reuters) - Fashion and homewares retailer Next raised its first-half guidance after reporting a fall in first-quarter underlying sales at its retail stores that beat analyst forecasts.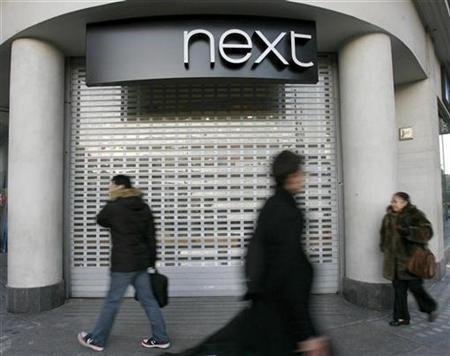 Next, the second-largest clothing retailer by sales value, on Wednesday said like-for-like sales in stores unaffected by new openings fell 2.3 percent in the 14 weeks to May 2 and forecast that first-half like-for-like sales would fall between 4 percent and 7 percent.
This compares with the company's previous first-half guidance, which forecast a like-for-like sales fall of between 6 percent and 9 percent at Next Retail, with operating margins dropping by around 3 percent.
"As a result of the better than expected sales to date we have added 15 million pounds to our internal profit forecasts," the company said in a statement.
Analysts, on average, expect Next to post a pretax profit of 360 million pounds for the year to the end of January 2010, down from 430 million in the prior year, according to Reuters Estimates.
The company put the solid first-quarter performance down to the good weather and fewer people travelling overseas during the Easter holiday, because of the weakness of sterling.
However, Next said it expected the second quarter to be weaker than the first due to tougher comparatives.
Sales at Next's catalogue and online business Next Directory rose 1.6 percent, with the company predicting first-half sales would likely be flat.
At the start of the year Next had forecast a sales fall of up to 2 percent at Next Directory, with operating margins broadly flat at around 19 percent.
UBS and Citigroup forecast a 3 percent and 4 percent drop in retail sales, respectively, and a 1 percent fall and a 2 percent rise in Next Directory sales.
Total group sales rose 1.2 percent.
Shares in Next, which have risen more than 50 percent in 2009, closed at 1686 pence on Tuesday, valuing the business at around 3.2 billion pounds.
(Editing by David Jones and Simon Jessop)
© Thomson Reuters 2023 All rights reserved.