New York & Co results lag Wall Street
Women's-apparel chain New York & Co Inc (NWY.N) posted a wider-than-expected fourth-quarter loss, hurt by weak consumer spending, and said it expects to post a loss in the first quarter as well, sending its shares down 9 percent.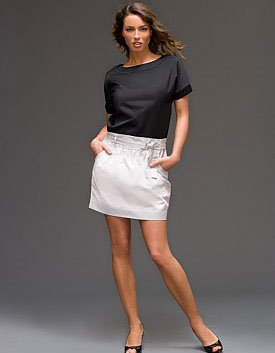 New York & Company Spring 2009
"The extremely weak economic environment and the resulting impact on consumer spending... reduced sales and gave rise to a highly promotional environment which affected profitability," CEO Richard Crystal said in a statement.
New York & Co, which caters to working women with moderate incomes, will narrow its product range across all merchandise categories, Crystal said in a conference call with analysts.
However, the company will continue to invest in its growing e-commerce section, Crystal said.
The retailer has also revamped its casual wear segment, which has lagged the accessory and wear-to-work categories for the past few seasons, he added.
TO TIGHTEN INVENTORY
The company, which plans to open about three stores and close 10 to 15 stores in 2009, will focus on lowering expenses and tightening inventory, Chief Financial Officer Sheamus Toal said.
In January, New York & Co, which also sells accessories and jewelry, said it would cut jobs and shut about 40 to 50 underperforming stores as part of its restructuring efforts.
The restructuring is expected to bring about $175 million in pretax savings over the next five years, of which roughly $30 million is expected to be realized in 2009.
New York & Co expects a first-quarter loss per share in the high single-digit range, but said it will not give full-year earnings outlook given the challenging retail environment.
Analysts on average had expected a loss of 1 cent a share for the period, according to Reuters Estimates.
For the fourth quarter, the company posted a net loss of $27.4 million, or 46 cents a share, compared with net income of $6.9 million, or 11 cents a share, in the year-ago quarter.
Shares of the company touched a low of $2.61 before recouping some losses to trade down 21 cents at $2.65 Thursday on the New York Stock Exchange.
(Reporting by Nivedita Bhattacharjee in Bangalore; Editing by Anne Pallivathuckal)
© Thomson Reuters 2023 All rights reserved.