Marks & Spencer's Bolland may seek cash call to speed change
By Mark Potter and James Davey - Analysis
LONDON (Reuters) - Marc Bolland, set to take over as chief executive of Marks & Spencer, may look to raise cash from shareholders to improve his chances of reviving the British retailer and justifying his huge pay package.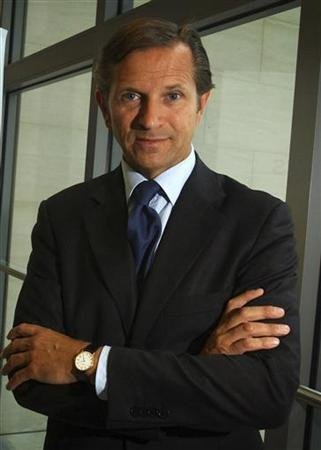 The task ahead of the 51-year-old Dutchman, who starts his job on May 1, is daunting.
He needs to address the underperformance of Marks & Spencer's (M&S) upmarket food business, reinvigorate its clothing ranges and overhaul distribution and IT systems.
He also needs to clarify priorities for future growth, which could involve ramping up the M&S Direct online business, introducing new product areas like cosmetics, fragrances and services, while reining in a scattergun expansion abroad.
None of this will be easy against a backdrop of weak consumer spending, and Bolland will not have the balance sheet strength that helped him to drive a turnaround at his previous employer, Wm Morrison Supermarkets.
Yet expectations are high, not least because of his 15-million-pound pay package, one the biggest "golden hellos" in British corporate history.
So he may be tempted to raise cash from shareholders to boost his chances of success.
"Marc Bolland has one opportunity to tap the market as he outlines his strategy," said Collins Stewart analyst Greg Lawless, who thinks he will unveil his plans around interim results in November and could seek about 750 million pounds.
Bolland will be mindful that if improvements don't come quickly, he could find himself facing a takeover bid from the likes of retail billionaire Philip Green, who has twice tried to add M&S to his clothing and department stores empire.
"People will be looking for like-for-like sales improvement plus margin improvements. If that doesn't happen, it does put the company in the spotlight for corporate activity," said Paul Mumford, senior fund manager at Cavendish Asset Management.
"I would hope that Bolland hits the floor running," he said.
FOOD AND CLOTHING
M&S had a torrid recession. Analysts forecast that profits will have fallen around 38 percent over the past two years, compared with a 1 percent rise at clothing rival Next and bigger increases at major supermarket groups.
Improvements have been made under executive chairman Stuart Rose, who will give up his executive role on July 31.
But M&S's food business, despite big investment, continues to lag upmarket rival Waitrose.
Analysts agree that M&S doesn't have the scale to compete with mass market grocers and say it needs to decide whether to offer a broader range of products like Waitrose, or focus on a smaller set of innovative and high quality goods.
JP Morgan-Cazenove's Steve Oldfield thinks the latter could be the best option, but warns it may "stretch the already different pitch of the food and general merchandise business."
It could also lead to the sale or closure of larger standalone Simply Food stores, but might appeal to Bolland, whose strategy at Morrison was to identify a key point of differentiation from competitors and market it strongly.
UBS analyst Andrew Hughes suggests an alternative scenario, where M&S offers a wider range of foods at larger stores, and a limited selection at smaller high-street outlets, which could allow some trading space to be switched to general merchandise.
Clothing will be less of a worry for Bolland, as it has been largely holding market share.
But while the firm has done well at expanding sales of lower priced clothes, it has not made enough progress with middle and upper priced ranges, JP Morgan-Cazenove's Oldfield argues.
Bernstein analyst Luca Solca also reckons there is not enough segmentation of brands to appeal to different consumers.
FUTURE GROWTH
With Bolland likely to focus on reviving M&S's core food and clothing businesses, many analysts expect him to pare back the group's plans to grow international sales to account for 15-20 percent of the total by 2012.
"This appears like an overambitious agenda with too much complexity," said Bernstein's Solca, pointing to M&S's variety of partnership arrangements spread thinly across 40 countries.
A better prospect, given strong growth in Internet retail sales, could be throwing more weight behind the group's M&S Direct business, including its new "Shop Your Way" service, which offers a range of ordering and delivery options.
Analysts are also keen for M&S to extend its 126-year-old brand into new categories, such as cosmetics and fragrances, and into services like telecoms.
But none of this is likely to come cheap.
"A major increase in store capex at a time of higher pension contributions and supply chain investment may stretch the balance sheet, especially if there is a risk of a double-dip for the consumer," said UBS's Hughes.
That is why the revamp of business systems -- a key part of Bolland's success at Morrison's -- could be crucial.
Goldman Sachs analysts believe the upgrade, which includes shrinking M&S's network of over 100 warehouses to just four, could add about 1 billion pounds to operating profits by 2014.
Bolland will want to yield those benefits as soon as he can.
(Editing by Sitaraman Shankar)
© Thomson Reuters 2023 All rights reserved.