Laura Ashley profit falls
By Tresa Sherin Morera
BANGALORE (Reuters) - British fashion and homewares retailer Laura Ashley (ALY.L) posted a 39 percent drop in full-year adjusted pretax profit as operating expenses increased and consumers curbed spending, and said it expects profit to remain flat in 2010.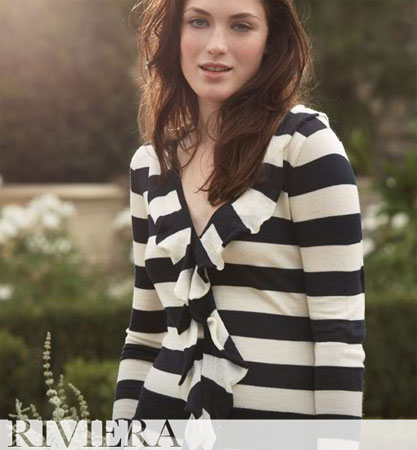 Laura Ashley Riviera, Spring 2009
"There is a broker forecast of we remaining flat on our this year's results, which I think we are comfortable," Chief Executive Lillian Tan told Reuters.
An analyst covering the company expects pretax profit before exceptional items of 9.1 million pounds for the year ending January 31, 2010, according to Reuters Estimates.
For the year ended January 31, 2009, the company posted a pretax profit, before one-off items, of 9.6 million pounds compared with 15.8 million pounds a year ago.
Operating expenses rose to 107.8 million pounds from 93.3 million pounds last year.
The firm, known for its floral fabrics, said its total retail sales grew 4 percent for the seven weeks to March 21, while like-for-like retail sales improved 5.3 percent helped by continuing targeted promotional activity.
"What we do is that we pick up a few of our popular items and we offer them to our customers at a very attractive price," Tan said of the promotional activity.
Laura Ashley, whose gross margins for financial year 2009 declined by 2 percentage points as a result of promotions and the weakness of sterling, said its margins for the seven-week period remained flat.
STORE REALIGNMENT
Laura Ashley, which trades from 228 stores in the UK, said the improvements to its store portfolio through the realignment programme would continue in 2009, but at a slower rate.
"In the light of the economic situation, we will be only looking at properties which are...if terms are attractive, we will continue to open, but otherwise you'll find that we will be slowing down our pace of store realignment," CEO Tan said.
The company opened about 29 stores and closed nine smaller ones last year.
"We will open new stores in locations where we have not been represented and at the same time could also move from a small store to a bigger store to allow our products to be fully represented," Tan said.
The company's origin can be traced back to when Laura and Bernard Ashley started printing fabric on their kitchen table in London in 1953, following an exhibition on traditional handicrafts.
Today, the apparel and furniture retailer plans to open 80 franchise stores in China and 20 stores in the Middle East over the next five years.
Laura Ashley shares, which have lost more than half their value over the past 12 months, were unchanged at 11.5 pence at 10:15 a.m..
($1=.7047 Pound)
(Reporting by Tresa Sherin Morera in Bangalore; Editing by Kavita Chandran)
© Thomson Reuters 2023 All rights reserved.