Crocs posts wider loss, revenue down 32 percent
SAN FRANCISCO, May 7 (Reuters) - Shoe maker Crocs Inc (CROX.O) on Thursday 7 May posted a deeper net loss on a 32 percent drop in revenue, even as the shoe maker cut inventory and costs, sending its shares down nearly 12 percent.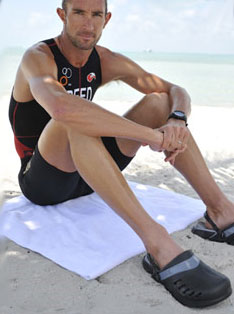 Matty Reed, U.S. Olympic triathlete and face of Crocs
The maker of brightly colored resin shoes is trying to stay relevant to consumers and revive its cash flow as a long string of sales declines and bloated operations have hurt profitability.
The first-quarter net loss of $22.4 million, or 27 cents per share, compared with a net loss of $4.5 million, or 5 cents per share, a year earlier.
Excluding a foreign currency exchange loss, the loss was 23 cents per share, Crocs said.
"Our intention in 2009 is to preserve the strength of the Crocs brand while endeavoring to strike a balance between lowering our fixed cost base and responsibly reducing our inventory," said recently named Chief Executive John Duerden.
Revenue fell 32 percent in the quarter to $134.9 million, above the $114.4 million expected by Wall Street.
For the second quarter, Crocs estimated a loss per share of 15 cents to 31 cents.
The company said it would not provide annual guidance due to uncertainties from the downturn.
Crocs shares fell to $3.08 after closing 6 percent lower at $3.48 on Nasdaq.
(Reporting by Alexandria Sage; Editing by Richard Chang)
© Thomson Reuters 2023 All rights reserved.