Crocs' credit facility extension deadline looms
SAN FRANCISCO, March 20 (Reuters) - Shares of Crocs Inc (CROX.O) are trading at their lowest levels since last fall, as the struggling shoe maker tries to extend its credit facility, which expires in less than two weeks.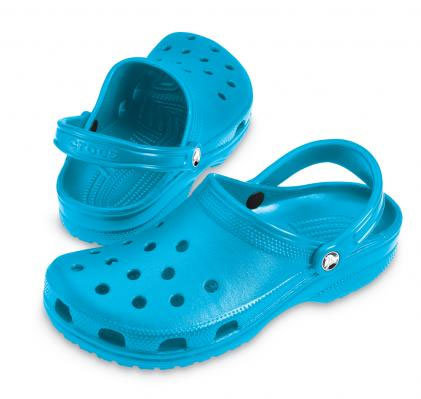 Crocs TM - Cayman, Electric Blue
The manufacturer of brightly-colored resin shoes filed its annual report with U.S. regulators on Tuesday March 17. In that report, Crocs said auditors Deloitte & Touche expressed "substantial doubt about our ability to continue as a going concern."
Crocs shares fell as low as $1.00 this week. The shares, which traded above $75 when the shoes rose in popularity in 2007, sunk as low as 79 cents last November.
Crocs, which had $51.6 million in cash and cash equivalents as of Dec. 31, is trying to extend its current credit facility, which matures on April 2, under which it has $22.4 million in borrowings.
It is also negotiating with financial institutions for an asset-backed lending arrangement and has said it could explore other avenues for sources of capital.
The company said on Tuesday that its existing cash resources and cash flows from operations should be enough to meet its ongoing business needs through March 31.
Crocs, which acts as a wholesaler and also operates its own stores, has seen its sales plummet as consumer interest in its bright, soft shoes has waned and shoppers have cut back on nonessential purchases in the grim economy. The company's sales fell nearly 15 percent to $721.6 million in 2008.
Crocs, whose infrastructure and inventory has been out of whack with current trends, lost $185.1 million last year. Crocs has responded by trying to slash costs, from shuttering factories to laying off workers.
In its most recent quarter, which included the difficult holiday season, Crocs was further pressured by foreign currency exchange rates.
Last month, Wedbush Morgan analyst Jeff Mintz cautioned investors in a note that they "avoid shares of Crocs given the significant uncertainties related to the company's business."
Shares of Crocs were down 3 cents, or 2.5 percent, at $1.17 in afternoon trading on Friday. The shares have fallen more than 90 percent in the past year. (Reporting by Alexandria Sage, editing by Gerald E. McCormick)
© Thomson Reuters 2023 All rights reserved.