Burberry reveals face (and body) of its new fragrance
Having mastered the art of communications, the British brand has just revealed the face of its new Burberry Body fragrance: a nearly nude Rosie Huntington-Whiteley, the English top model for whom "it's a huge honour to be working with Burberry again, a brand that put my career on the map and helped launch me." The model and actress, seen posing half-nude in a provocative manner, was captured by photographer Mario Testino, who is in charge of the print campaign.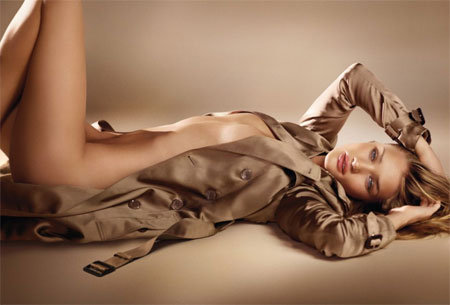 Rosie Huntington-Whiteley posing for Burberry Body
Fruit of its new licence with Interparfums (valid until 2017 unless Burberry decides to buy the licence back in the next year), the new fragrance will be an addition to Burberry's existing line of 8, including the most popular Burberry Brit or Burberry London scents. In 2010, on top of the launch of a small make-up line, Burberry also came out with Burberry Sport. As for Burberry Body, its new perfume for women expected to launch this year, it is the latest of many other fragrance launches by the British brand, which began with The Beat. In 2010, Burberry's perfume sales generated the company 184.7 million euros, which represented 60.4% of Interparfum's total global revenue.
For the time being, both the bottle and the scent of Burberry Body, which has been described by the brand as its "most sensual fragrance to date", remain a mystery that will only be revealed on September 1st, when the perfume launches "online and offline" across 150 countries.
Copyright © 2023 FashionNetwork.com All rights reserved.