Benetton Q1 net profit, revenue fall
MILAN, May 11 (Reuters) - Italian clothing retailer Benetton (BNG.MI) on Monday 11 May reported a nearly 38 percent fall in first-quarter net profit, hurt by cooling demand and unfavourable exchange rate trends in emerging markets.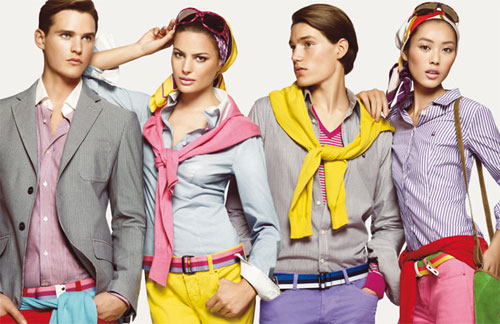 United Colors of Benetton Spring-Summer 2009
Benetton, known for its colourful sweaters, said in a statement that first-quarter net profit was 18 million euros ($24.49 million), down from 29 million euros a year ago.
Net revenue fell 3.4 percent to 449 million euros.
It fell 2 percent at constant exchange rates. Benetton said it was reorganising its sourcing, production and shipment schedule for the 2009 Fall/Winter collection, "delaying the initial seasonal deliveries by a month, and therefore out of the second quarter".
"This will have a temporary impact on sales in the second quarter ... over and above normal market trends, which will be fully recovered in the third quarter of the year," the company said.
It said the move would improve the management of logistic costs.
Last month Executive Vice Chairman Alessandro Benetton said as a whole 2009 should be a good year, taking into account consumer and market conditions.
He had said the retailer expected first-quarter results to be in line or slightly below those of a year earlier.
Benetton said net debt was 763 million euros at the end of March, up 74 million euros from the end of December.
Shares were down 0.97 percent at 6.125 euros at 1155 GMT. (Editing by Rupert Winchester)
© Thomson Reuters 2023 All rights reserved.