Bebe crafts comeback with mix of chic and celeb
By Nivedita Bhattacharjee - Analysis
BANGALORE (Reuters) - For Bebe Stores Inc (BEBE.O), the reason behind sliding sales go beyond recession-induced thrift among shoppers to recent fashion missteps -- but that's set to change soon.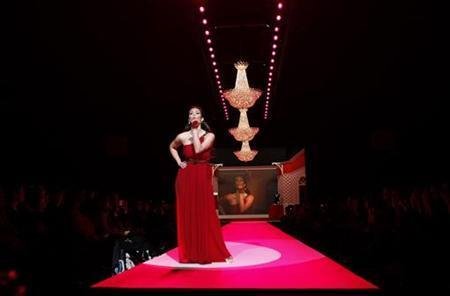 Until about three years ago, Bebe's sexy styles for party and professional wear made the retailer a favored shopping destination with American fashionistas.
Then the hemlines grew a little too short, the colors turned mundane, and the recession hit the United States, pushing the pricey retailer out of favor with its core 18-to-25 year-old customers.
"I got a great, professional winter coat at Bebe about three years ago," New Yorker Hannah Clark Steiman said, but she found a return visit late last year to be disappointing.
"I was greeted with a more expensive version of Forever 21," Steiman said, referring to the privately held retailer known for its knock-off fashions at very low prices.
But starting this year, newer cuts and colors started arriving under Chief Merchandising Officer Kathy Fong-Lee, raising hopes that the company is finally on the right track to grow its top line once more.
Along with the turnaround merchandise, Bebe is also trying new ideas to woo back younger shoppers, including introducing a line in collaboration with socialite Kim Kardashian and her sisters.
On February 5, the company said comparable sales in January were down 13 percent -- a marked improvement over the 22.5 percent decline it saw for the second quarter ended Jan 2, and Chief Executive Manny Mashouf said the company was already seeing some of its younger customers come back.
Sure enough, Christina Salgado, an Arizona-based public relations manager, said she was pleasantly surprised by a Bebe store's collection on a recent visit.
"I appreciate the shift they're making toward softer, more sophisticated looks, while still maintaining their penchant for club-chic," Salgado, who picked a dress for her birthday from the Kardashian line, said.
THE KARDASHIAN BUZZ
Bebe's recent launch of the Kardashian line, which made its runway debut at New York Fashion week, is set to offer a platform to show off the changes at the company, though the line itself may not necessarily translate into better overall sales for the company.
"The line is a small component of the overall business. If anything, it is being used to draw attention to Bebe's improved assortment," Wall Street Strategies' analyst Brian Sozzi said.
Curious shoppers who walk into stores to check out the new range could end up picking clothes off the core Bebe line.
"The company is hyping the (Kardashian line) on its website, Facebook and through emails to spur interest, and it looks to be working," Sapna Shah, principal at research and consulting firm Retail Eye Partners, said.
"At one store that is previewing the line before it is available throughout the chain, we saw good shopper response... (and) many of the dresses and tops already saw sellouts on the first day of availability," Shah said
SHOULD PH8 SURVIVE?
Another long-term drag on the business has been the company's Bebe Sport concept, which despite a relaunch as PH8 last July has failed to resonate with shoppers.
While Bebe works on reviving the brand, many analysts think it might work better if the concept is closed altogether.
"What PH8 has turned out to be... (is) essentially, the same business model that was performing badly, rebranded under a new name, a name that consumers are unaware of and unconvinced that they want to spend there," analyst Sozzi said.
The line currently pulls down the company's annual earnings by about 8 cents a share.
"We still think it would be a positive for the stock if management would announce the divestiture... (but) if the core concept can grow, it can more than offset the lag from the PH8," Betty Chen, Wedbush Morgan's analyst for specialty apparel, said.
(Reporting by Nivedita Bhattacharjee in Bangalore; Editing by Anthony Kurian)
© Thomson Reuters 2023 All rights reserved.