AnnTaylor revenue misses; cautious on holiday
NEW YORK, Nov 20 (Reuters) - Women's clothing retailer AnnTaylor Stores Corp (ANN.N) reported lower-than-expected quarterly revenue on Friday 20 November and gave a cautious forecast for the current holiday quarter, sending shares down 2.2 percent in premarket trade.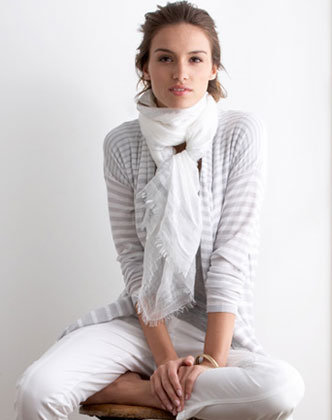 'The Summer Cardigan' at Ann Taylor
The operator of the Ann Taylor and Ann Taylor LOFT chains said its fourth-quarter sales would be slightly below those of the third quarter, and that its gross margins would be lower as well, due to heightened promotions it expects to use to drive sales throughout the holiday shopping period.
In the third quarter, ended on Oct. 31, AnnTaylor posted a net profit of $2.1 million, or 3 cents per share, reversing a net loss of $13.4 million, or 24 cents per share, a year earlier.
Excluding restructuring and asset impairment charges, the company said it earned 20 cents per share in the latest quarter.
On that basis analysts on average were expecting earnings of 7 cents per share, according to Thomson Reuters I/B/E/S.
Net sales fell 12 percent to $462.4 million, missing analysts' estimate of $473.9 million.
Like Chico's FAS Inc (CHS.N), Talbots Inc (TLB.N) and other chains that target mature women, AnnTaylor has suffered in the recession as some customers reduced spending on themselves before cutting back on purchases for their families.
Yet earlier this week, Chico's posted much better-than-expected results, saying a revamping of its merchandise helped it snag market share from rivals. .
AnnTaylor said same-store sales, or sales at stores open at least a year, fell 13.7 percent in the third quarter -- an improvement from declines of 22.5 percent in the second quarter and 30.7 percent in the first.
In its battle against falling sales, AnnTaylor has cut jobs and reduced the inventory it keeps on hand.
Beginning in the summer, the company started selling evergreen wardrobe items, such as "the perfect pencil skirt, perfect pants, and perfect jacket," throughout the whole season and brought in more fashionable pieces monthly to complement them.
AnnTaylor said it expects fourth-quarter selling, general and administrative expenses of $245 million.
AnnTaylor shares fell to $13.50 in premarket trade on Friday 20 November, from their close on Friday 20 November at $13.81 on the New York Stock Exchange. (Reporting by Martinne Geller, editing by Gerald E. McCormick)
© Thomson Reuters 2023 All rights reserved.