Weak holiday views drag on Hot Topic, Gymboree shares
By Nivedita Bhattacharjee
BANGALORE (Reuters) - U.S. teen clothing retailer Hot Topic Inc (HOTT.O) and Gymboree Corp (GYMB.O), which caters to children, both forecast holiday quarter earnings below market estimates, sending their shares down in trading after the bell.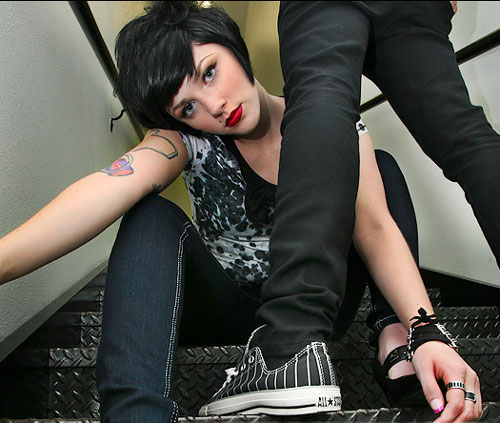 Hot Topic
For November, which represents the start of the crucial selling season, Hot Topic said it expects comparable sales to be down in the 8 to 11 percent range, with its namesake division already down in the high teens till date this month.
Gymboree also saw a low to mid-single digit fall in comparable store sales for the fourth quarter.
"Generally, the first couple of weeks in November have been slower for some apparel retailers and I think given that cadence of sales, managements are taking a more conservative approach to projecting the quarter," analyst Sharon Zackfia of William Blair & Co said.
Recent weeks have also seen reports of slowing mall traffic, as customers postpone purchases for Black Friday.
On Monday 16 November, another teen apparel retailer Pacific Sunwear of California Inc (PSUN.O) spoke of slowing demand, leading them to forecast a much wider-than-expected loss for the fourth quarter.
Segment-wise, Hot Topic's women's division has weighed down performance for about a year now, but the company saw some benefit in the third quarter from Halloween related merchandise, as well as from the men's segment.
At Gymboree too, the boy's division lead the way in sales and margin growth, the company said in a conference call with analysts.
"(Gymboree) is very prepared for the environment and the guidance for the fourth quarter is conservative," Caris & Co analyst Dorothy Lakner said.
For Hot Topic -- which sells edgy, Goth-inspired clothing, as well as music and accessories -- trends at the namesake division are expected to improve this week, as the movie sequel to teen vampire romance "Twilight" hits theaters.
"Hot Topic is lapping a very positive (benefit from) Twilight merchandise last year. They, unlike most retailers, have more difficult comparisons," William Blair's Zackfia said.
Hot Topic shares went down as much as 7 percent in trading after the bell, while Gymboree was down 2 percent. They had closed at $6.67 and $40.99, respectively, Wednesday 18 November on Nasdaq.
(Additional reporting by Renju Jose in Bangalore; Editing by Anthony Kurian)
© Thomson Reuters 2023 All rights reserved.