US retailers likely regained strength in April
NEW YORK, May 5 (Reuters) - Warmer weather and a later Easter likely spurred many U.S. consumers to shop in April, and may lead retailers to post only a very modest decline in monthly sales later this week.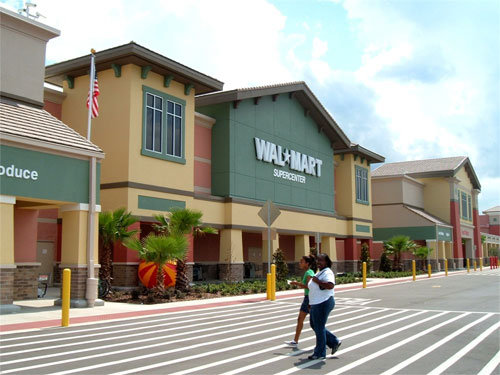 Wal-Mart in Orlando, Florida
The results will likely provide more fodder for optimists who see signs that retail's darkest days are behind. Yet they could be clouded by the outbreak of the H1N1 flu, which might have kept some shoppers away from crowded malls toward the end of the month.
"It's not very good news, because (trends) are still negative, but it's definitely a sign of improvement," said Jharonne Martis, senior research analyst with Thomson Reuters, of the expected April figures.
Analysts expect April sales at stores open at least a year to decline 0.3 percent, according to Thomson Reuters data. Excluding Wal-Mart Stores Inc (WMT.N), which has an outsized impact on the sector, sales are expected to fall 3.3 percent.
Martis said those declines are smaller than those retailers posted from October through January.
Positive data points in recent weeks have boosted stocks on rising optimism that the U.S. economy may be on a path to recovery, helped by a huge government stimulus package and the Federal Reserve's efforts to prop up the banking sector.
U.S. consumer confidence, as measured by the Reuters/University of Michigan survey of consumers, climbed to 65.1 in April from 57.3 in March, reaching its highest level since September. Meanwhile, a closely watched index of manufacturing activity also jumped in April.
The Standard & Poor's Retail Index .RLX jumped more than 15 percent in April, outpacing a 9.4 percent rise for the wider S&P 500 Index .SPX.
Despite signs of life, Martis said the month's likely winners would continue to be those that deliver a sense of value, such as Wal-Mart among discounters, Kohl's Corp (KSS.N) among department stores, TJX Cos Inc (TJX.N) and Ross Stores Inc (ROST.O) among clothing chains and Buckle Inc (BKE.N) and Aeropostale Inc (ARO.N) among the teen apparel retailers.
WARMING UP THE WALLET
Retailers are expected to post April results that are better than results in March, helped by warmer weather and the Easter holiday, which occurred in April this year versus March last year.
Drugstore operator Walgreen Co (WAG.N) posted a 5.7 percent rise in April sales, blowing past analysts' estimate for a 3.2 percent gain, as the Easter holiday boosted demand for candy and other holiday-related goods. It also reported increased demand for items that could help keep flu at bay, such as hand sanitizers and soaps.
Oppenheimer analyst Robert Samuels said Easter buoyed apparel sales since many spring breaks from school were timed with the holiday, leading to greater store traffic. He added that April's warmer weather boosted sales of spring and summer merchandise that was slow-moving during the cooler March.
"All in, we think April likely comes in ahead of expectations for most of our names," Samuels said. "The March + April period, how we prefer to analyze the two months, is likely to show a continued improvement from the January and February periods."
March same-store sales fell 1.8 percent, according to Thomson Reuters data. Excluding Wal-Mart, March sales fell 5 percent.
Wal-Mart said last week it was seeing U.S. customers spend more on discretionary items like sporting goods and bedding, as payroll taxes and gasoline prices come down.
J.P. Morgan analyst Charles Grom said other chains, such as J.C. Penney Co Inc (JCP.N) and Big Lots Inc (BIG.N), were also seeing strength in the highly discretionary home category.
"We believe the U.S. consumer is regaining confidence and with the falling food/energy prices a continued tailwind, we think real consumer spending is close to bottoming," Grom said. (Reporting by Martinne Geller, editing by Matthew Lewis)
© Thomson Reuters 2023 All rights reserved.