Technology in starring role at NY Fashion Week
By Jan Paschal and Martinne Geller
NEW YORK (Reuters) - The Internet and advances in technology are transforming fashion, making it easier for designers to create collections and less expensive for them to show and sell their work, experts say.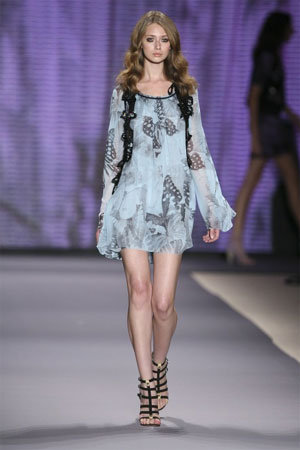 Vivienne Tam spring-summer 2010 at the New York Fashion Week - Photo: Pixel Formula
Instead of spending tens of thousands of dollars on a runway show at New York Fashion Week, some designers presented collections for spring and summer 2010 online, while others are expanding the reach of their brand by making it easier for shoppers to buy their clothes online.
Designer Norma Kamali and Polo Ralph Lauren's Rugby brand both have applications for Apple's iPhone that allows shoppers to buy clothes from their phone.
"This is the technology that's changing our lives," said Kamali, who displayed her spring and summer 2010 collection as well as exclusive lines for eBay and Walmart.com at the Apple store in Manhattan's Soho neighbourhood.
Kamali's iPhone application has a "Try Before You Buy" option, which allows clothes to be sent overnight to a customer, who provides her credit card information, so she can try them on at home before committing to buy.
Menswear designer Miguel Antoinne and womenswear designer Marc Bouwer both put on virtual fashion shows, while models at Vivienne Tam's show carried gold "digital clutches" -- a Hewlett-Packard netbook adorned with a Tam design.
Mazdack Rassi, co-founder and creative director of Milk Studios, a hip downtown space that showed about 70 collections during New York Fashion Week, said he hopes to broaden the reach of Fashion Week and was considering projecting shows on the side of a building so people at a nearby park could watch.
"It goes back to opening it up to the consumer," Rassi said during a panel discussion on the future of fashion. "That can only be done through technology."
DEMOCRATIC FASHION
With cable television and the Internet, designers know that their shows can be seen by many more people than just the buyers, editors and media who attend, and in some cases, they are designing accordingly.
"Back in the day, shows were squarely aimed at editors and buyers mostly," said Lazaro Hernandez, half of the duo behind the label Proenza Schouler. "Now, when you do a show, you think about the fact that everyone's going to see it on the Internet the next day. It's become much more democratic."
That democracy goes both ways, according to Humberto Leon, co-founder of retailer Opening Ceremony.
"The Internet has really challenged buyers because now information is everywhere ... it's really challenged buyers to buy well," Leon said, noting that e-mail has given Opening Ceremony better access to new designers.
Designers, including those behind Proenza Schouler, are finding that technology can also help the actual design work by allowing artists to explore new ideas and processes.
But Simon Collins, the dean of fashion at Parsons The New School for Design, said even though technology is helpful, there is still no substitute for talent and hard work.
"Absolutely, there'll be people out there that have incredibly successful businesses that don't know the first thing about (draping and construction), just think it up, put it on the computer, fire it off to the factory and it works," Collins said. "But they're the exception, not the rule."
(Reporting by Jan Paschal and Martinne Geller; Editing by Michelle Nichols)
© Thomson Reuters 2023 All rights reserved.