Quotes from World Retail Congress
May 7 (Reuters) - Retailers are experiencing the worst economic downturn in living memory, according to a straw poll of delegates at the World Retail Congress in Barcelona. But some of them are seeing signs that recovery is on the way.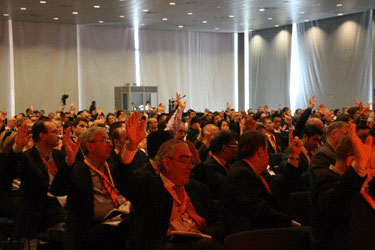 World Retail Congress 2009 in Barcelona
Following are some of the standout quotes from the three day event, which ends on Friday 8 May:
ECONOMIC RECOVERY
"I don't think it's going to get worse, but this is going to be a lengthy process .... I think we'll start to see improvements towards the back end of this year" -- Best Buy International (BBY.N) Chief Executive Bob Willett
"There are some green shoots ... My forecast is that by the end of this year or at least early next year we'll see the U.S. economy start to grow again" -- Deloitte Director of Global Research Ira Kalish
"Our view increasingly is that in certain discretionary categories the total market has shifted down -- depending on the category, by between 15 and 25 percent ... It may be many, many years before we regain the spending levels we enjoyed just last year" -- Borders (BGP.N) Chief Executive Ron Marshall.
"I think there's a real risk that inflation will recover over the next year, two years, and governments then have to take action to look after that and then we get a second leg of the recession later on" -- Mothercare (MTC.L) Chairman Ian Peacock.
EBAY ON SKYPE
Asked on the sidelines of the conference about a potential $2 billion valuation for Skype, eBay Chief Executive John Donahoe said "I think that's low."
E-COMMERCE
"Consumers will actually press the buy button online 15 to 20 percent of the time" -- eBay (EBAY.O) Chief Executive John Donahoe, predicting the rise of e-commerce in a few years from its current level of about 5 percent.
"I could see it (online sales at Mothercare) being 30, 40, maybe 50 percent in the next five to six years" -- Mothercare Chief Executive Ben Gordon said in a video presentation at the conference. Mothercare now sells 18 percent of sales online.
PROTECTIONISM
"If you look at the pronouncements from the leaders during the G20 meetings, everyone had on their agenda that they would not put up trade protectionist barriers.
"But rhetoric is rhetoric. I am not so sure that trade protectionism would not be a major issue coming forward especially when you see that even in President Obama's rescue package this 'Buy American' concept" -- William Fung, managing director of export sourcing and distribution group Li & Fung.
DESTOCKING
"About 10 to 15 percent of the world's container ships have actually been lying idle now for two or three months. Not only that, but it's against the background of another 10 to 20 percent capacity in container ships coming on.
"The only silver lining that I see ... is the fact that you (retailers) are now operating on probably unprecedented low levels of inventory and if there should be a turnaround...then perhaps our turnaround on trade will be even sharper" -- Li & Fung Managing Director William Fung. However, he added that most suppliers were expecting a 5 to 15 percent drop in business this year.
ENVIRONMENTAL SUSTAINABILITY
"I think we need the green shoots to be really green and there is a real opportunity to make green shoots sustainable shoots in the year ahead" -- Tesco (TSCO.L) Director of Corporate and Legal Affairs Lucy Neville-Rolfe
PRICES
"We're expecting between 5 and 10 percent price deflation (from suppliers in Asia)" -- Li & Fung Managing Director William Fung
UK ELECTRICALS SECTOR
"The UK's the real problem. There's a market where there's overcapacity. There's a lack of differentiation between formats ... You could cover the whole of the UK with 400 stores" -- Kesa Electricals (KESA.L) Finance Director Simon Herrick
SPANISH RETAIL
"I think everyone's losing in Spain. If it was just us I'd be worried. Unemployment is at 4 million. They say it's going to go to 20 percent. This is not good news" -- Mango Executive Vice President Isak Halfon
SOUTH AFRICA RETAIL
"We've now got through our elections, and I've noticed the rand has strengthened and there seems a little more confidence about everything" - Managing Director of Retail Andrew Jennings of South Africa's Woolworth (WHLJ.J)
CONSUMER SPENDING IN FRANCE
"The difference between France and the UK is that the French are savers. Sentiment may be up, or may be down, but volatility will be lower" -- Kesa Finance Director Simon Herrick. (Reporting by Mark Potter and Sarah Morris; Editing by Rupert Winchester and Karen Foster)
© Thomson Reuters 2023 All rights reserved.