Kiefer Sutherland charged with assault
NEW YORK (Reuters) - TV star Kiefer Sutherland was arrested by New York police on Thursday and charged with assault for headbutting another man.
The star of hit television show "24" turned himself in to a police station in the Manhattan neighbourhood of Soho and faces a minor assault charge for "headbutting", according to a police spokeswoman.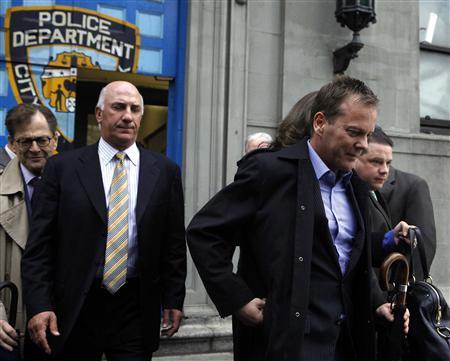 Media outlets reported that Sutherland is accused of assaulting fashion designer Jack McCollough at a Monday night party after an annual costume gala held by the Metropolitan Museum of Art.
A representative for the actor, who is serving five years probation on a drunken driving charge in Los Angeles, did not return a call for comment.
The Manhattan District Attorney's office had no comment.
A criminal charge, even a minor one, could have harsh consequences for the 42-year-old actor, who plays tough-minded special agent Jack Bauer on the TV thriller "24."
He was arrested in 2007 for drunken driving in Los Angeles and served 48 days in a Southern California jail. At the time of his arrest, Sutherland was on probation for a previous drunken driving violation.
Frank Mateljan, a spokesman for the Los Angeles City Attorney's Office, said Los Angeles officials will contact New York detectives to learn details of their investigation.
"If we can establish that there was a violation of the probation, then it would be up to a judge to levy whatever penalties are appropriate," Mateljan said on Wednesday.
Mateljan said that under the terms of his probation, Sutherland is required to "obey all laws."
(Reporting by Edith Honan and Christine Kearney in New York and Alex Dobuzinskis in Los Angeles, writing by Michelle Nichols, Editing by Sandra Maler)
© Thomson Reuters 2023 All rights reserved.