Investors wary of retailers playing catch-up
Dec 20 - Holiday sales have outpaced expectations so far for U.S. retailers, but stock pickers still see several retailers, including Wal-Mart Stores and Sears Holdings, as laggards days before Christmas.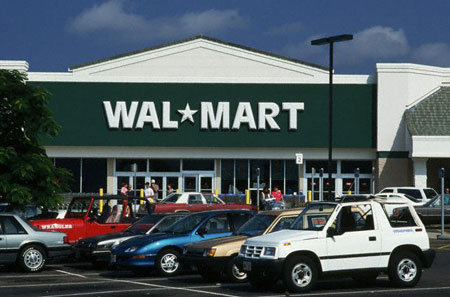 Wal-Mart in Hawaii
The reasons range from making bad merchandising bets to not discounting enough early in the season to being out of step with fashion, analysts and investors said.
Wal-Mart converted garden centers in more than 2,000 U.S. stores to temporary toy sections just last week as part of an 11th-hour push to win last-minute holiday shoppers.
"They are clearly playing catch-up too late in the game," said Craig Johnson, president of Customer Growth Partners, adding that the No. 1 retailer has lost out to smaller rival
Target
Corp in many categories this year, including electronics, which was formerly a Wal-Mart strength.
"Wal-Mart said they (will) have a Christmas of socks and underwear, and that's what has been the case," he said. On the other hand, "Target has had an exceptionally strong season. They are operating on all cylinders."
Best Buy also lost some tech shoppers to Target and other discount rivals as a decision to focus on promoting pricier 3D televisions backfired. The retailer is now trying to change tack and advertise cheaper TVs.
"Best Buy is Target, Costco and
Apple
's gain," Shawn Kravetz, who manages Esplanade Capital, said.
CONSUMER FEELS BETTER
Best Buy is also being challenged by online sites such as
Amazon
.com, and Wal-Mart, which has dramatically increased its inventory in a move that likely took sales away from Best Buy, David Berman, president of Durban Capital said.
The holiday season started off with a bang as consumers flocked to stores on the day after Thanksgiving. As a result, the National Retail Federation and others raised their expectations for holiday sales.
The American consumer "feels a little bit better (but) she still needs the bargains," Patty Edwards, chief investment officer of Trutina Financial said.
Both
Talbots Inc
and
American Eagle Outfitters
Inc drew brickbats from retail investors for their fashion faux pas.
"It's not your mother's Talbots, it's your grandmother's Talbots," Edwards said, stressing that many of its recent ensembles "look cheap" or are completely out of vogue.
American Eagle is in a sticky spot.
"American Eagle can't compete on a price basis with
Aeropostale
. They don't have the sort of style sense and... cool factor that Abercrombie has," Johnson said.
The prospects of booksellers like Borders Group Inc and Barnes & Noble look bleak too.
"They are a vanishing breed. And that's a question, who is going to make it to the exit first?," Johnson said. "Buy a book there, but if you want to return it, don't wait too long."
POTENTIAL WINNERS
High-end stores Tiffany & Co and
Nordstrom
Inc, as well as online retailer Amazon.com, continue to rule investor top-pick lists this season thanks to their compelling merchandise or aggressive offers online.
Many investors now also like
Coach
Inc, seen as the destination of affordable luxury. Edwards said she noticed unusually long lines outside Coach's outlet stores.
Despite its high valuation, investors still like Tiffany's stock. Tiffany trades at 20.4 times its forward earnings, while Coach trades at a multiple of 18.
Bloomingdale's, which is
Macy's
high-end store, has performed well, Customer Growth Partners' Johnson said.
But even at the high end, some stores are struggling.
"
Saks
did make some progress in their turnaround, but again they were struggling with the fact that they have too many stores, and Nordstrom has been widening the gap," said Walter Stackow, an analyst with Manning & Napier.
Despite strong November sales at J.C. Penney, many overlooked the department store's stock and looked elsewhere.
"I am not convinced that Penney has had a strong month so far," Johnson said. "A rising tide will lift all boats, but I don't think they did as well as say Macy's on the one hand, or
Kohl's
on the other," Johnson said.
ABERCROMBIE CUTS PRICES
Based on channel checks, Nomura analyst Paul Lejuez said
Abercrombie & Fitch
, Coach, and off-pricers TJX and
Ross Stores
have seen stronger-than-expected sales so far this season. Abercrombie cut prices to win shoppers.
"Promotions seem to be working, but they are not extreme and Abercrombie has the easiest comparisons in our universe," Lejuez said.
Some like Kravetz also see good prospects for
AnnTaylor
Stores Corp and Lululemon Athletica.
Kravetz, who does not own shares of any of the companies mentioned, is choosing to play a "watch-and-watch" game while investing in retail this year.
"We think now is a tricky time to be an investor in retail," he said. "Let the dust settle."

By Dhanya Skariachan
(Reporting by Dhanya Skariachan; Additional reporting by Phil Wahba and Martinne Geller; Editing by Kenneth Barry)
© Thomson Reuters 2023 All rights reserved.