General Growth floats exit plan as suitors circle
By Paritosh Bansal and Ilaina Jonas
NEW YORK (Reuters) - General Growth Properties Inc (GGWPQ.PK) on Wednesday 24 February unveiled a bankruptcy exit plan bankrolled by Brookfield Asset Management (BAMa.TO) that would split it in two, as suitors circled the second largest U.S. mall owner.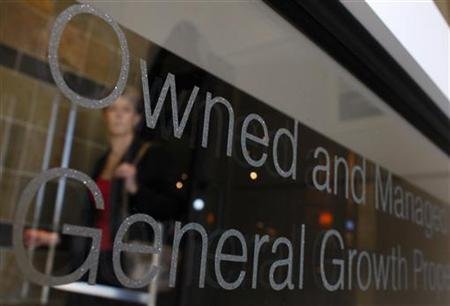 General Growth signed non-disclosure agreements with Simon Property Group (SPG.N), the largest U.S. mall owner, and Australia's Westfield Group (WDC.AX), which would give them access to information about its business, according to sources familiar with the matter. The move is usually a precursor to possible bids.
The developments come just before a crucial court hearing on March 3 and set the stage for what could turn into a bidding war for the bankrupt mall owner, whose more than 200 malls include Fashion Show in Las Vegas, Ala Moana Center in Hawaii and Faneuil Hall Marketplace in Boston.
Simon has offered to buy General Growth in a deal it valued at about $10 billion and also is in talks with Blackstone Group (BX.N) about co-investing in a deal. General Growth's Brookfield-sponsored plan tops Simon's current offer, giving equity holders around $4.75 billion versus some $2.86 billion under the rival offer.
Under the General Growth plan, Brookfield would invest $2.625 billion in return for a 30 percent stake in the mall owner and the right to nominate three directors.
William Ackman, an investor and General Growth board member, also would offer Toronto-based Brookfield some protections and even share some of his profits with Brookfield under certain conditions.
The plan values General Growth at $15 per share compared with a $9-per-share offer by Simon. It would repay holders of about $7 billion of unsecured debt in full with interest.
Unsecured creditors would be paid in cash and stock, but General Growth also hopes to raise up to $5.8 billion more so that it can repay these unsecured creditors in cash.
General Growth's proposal drew some skepticism, with one investor saying public markets would want more information before they invested.
The plan does not say who would run the company, what malls it would eventually own, and if John Bucksbaum, the heir to the founder and current chairman, will be a board member.
General Growth's shares closed down 0.62 percent at $12.89, below the plan value.
"We're talking about very large numbers to make this work," said Robert Gadsden, portfolio manager at Alpine Realty Income & Growth Fund, which owns GGP shares. "Frankly, from both the unsecured bondholders standpoint and any new equity there's more question marks here."
Simon said its takeover offer was superior. "General Growth's proposed recapitalization amounts to a risky equity play on the backs of its unsecured creditors," it said.
Westfield declined to comment. The sources are anonymous because the talks are not public.
GENERAL GROWTH OPPORTUNITIES
The exit plan calls for existing General Growth shareholders to receive shares valued at $5 each in a new company, General Growth Opportunities. The new company would
house noncore assets, such as the master planned communities and some developments like South Street Seaport in New York.
Brookfield would invest $2.5 billion at $10 per share for new General Growth shares and up to $125 million at $5 per share for General Growth Opportunities common stock. It would get a stake of up to 7 percent in General Growth Opportunities.
General Growth, which filed for bankruptcy in April, would try to raise additional capital through a combination of means, including about $2.8 billion of equity, $1.5 billion of new debt and $1 billion of joint venture and other asset sales.
Simon has offered to pay the unsecured creditors cash, which could be a key to whom the bondholders back.
With its proposal General Growth possibly hoped to gain support from the bankruptcy judge to extend the period it has to file a reorganization plan exclusively by six months, said a real estate investor, who requested anonymity due to conflicts.
"If the equity holders can point to a bona fide offer for the equity, which is meaningfully above what Simon's offering, then they're likely to be successful in extending the exclusivity period for 30 to 60 days and freezing Simon out for another couple of months at least," the investor said.
Both the official committee of unsecured creditors and Simon filed objections to General Growth's extension request.
BROOKFIELD WARRANTS
As consideration for acting as "stalking horse" in the company's process to raise capital, Brookfield would receive seven-year warrants to purchase 60 million shares at an exercise price of $15 per share.
Until the warrants are approved by the bankruptcy court, Ackman's Pershing Square Capital Management will provide interim protection to Brookfield, General Growth said in a statement.
If General Growth completed a transaction with another party at more than $12.75 per share, Pershing Square would pay Brookfield a part of the profits from Pershing's investment in General Growth.
The support being offered by Ackman is something of a role reversal for the hedge fund manager. In the past he has been cast as an activist outsider, trying to pressure companies to change strategies, as he did in 2006, when he persuaded Wendy's International to shed its Tim Horton's doughnut chain.
Now in the takeover battle for General Growth, he is very much the insider, controlling a 25 percent stake of the company, as well as being on its board.
UBS and Miller Buckfire & Co advised General Growth, while Goldman Sachs and Barclays Capital advised Brookfield.
Simon closed down 0.5 percent at $77.53. Brookfield was off 0.5 percent at C$24.04.
(Reporting by Paritosh Bansal and Ilaina Jonas)
(Editing by Maureen Bavdek, Steve Orlofsky and Carol Bishopric)
© Thomson Reuters 2023 All rights reserved.