Fairholme, Pershing to up General Growth investment
(Reuters) - Fairholme Capital Management and Pershing Square, two key investors in General Growth Properties Inc (GGP.N), are teaming up to invest another $3.93 billion in the mall operator to help it emerge from bankruptcy, according to a person familiar with the matter.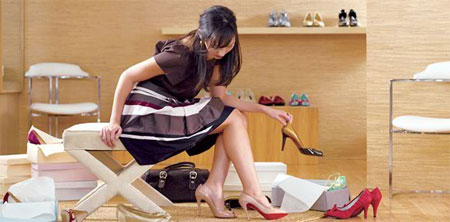 Shopping at New Park Mall, a General Growth property - Photo: www.newparkmall.com
The transaction is part of a plan involving Brookfield Asset Management (BAMa.TO) that would allow General Growth to remain an independent company instead of selling itself to its largest competitor, Simon Property Group Inc (SPG.N).
The involvement of Fairholme, General Growth's biggest creditor, and Pershing Square, General Growth's biggest shareholder, removes important elements in doubt when Brookfield put forth its plan late last month to split General Growth in two, the person said.
Officials at General Growth, Fairholme, Brookfield, Simon and Pershing Square were either not immediately available for comment or declined to comment.
Brookfield's plan called for General Growth to sell about $1 billion of assets, as well as about $3.3 billion of new equity. A General Growth spinoff, called General Growth Opportunities, was also supposed to sell $125 million of equity to outside investors, and sell $125 million of equity to Brookfield.
Fairholme and Pershing Square have agreed to invest the $125 million that General Growth Opportunities was going to seek from outside investors.
They have also agreed to buy up to $3.8 billion of shares from General Growth itself, the person said. That commitment to buy shares means General Growth will not necessarily have to sell assets, or shares to other investors, removing elements potentially in doubt about the Brookfield plan.
If other investors are willing to buy General Growth shares at more than $10 apiece, Fairholme and Pershing Square could buy as little as $1.9 billion of shares.
The funds from Fairholme and Pershing Square and potentially outside investors, combined with funds from Brookfield and a $1.5 billion loan secured by General Growth, will leave the company with about $7.8 billion.
Those funds which should be sufficient to repay all creditors their full amount due plus accrued interest, and provide the company with about $800 million to help pay bankruptcy exit costs and leave it with funds when it emerges from bankruptcy.
Both the Simon bankruptcy plan and the Brookfield plan now offer creditors the same benefits, and the company's board must instead decide whether the mall operator is better off as part of Simon or as an independent company.
For participating in this transaction, Fairholme is receiving warrants to buy 60 million shares at $15 a share. If General Growth emerges from bankruptcy as an independent company, then William Ackman's Pershing Square will receive a portion of those warrants. But if Simon buys the company, Fairholme still receives its warrants, making a purchase more expensive for Simon.
The granting of warrants is subject to bankruptcy court approval, which could take weeks.
Ackman sits on General Growth's board.
(Reporting by Dan Wilchins; Editing by Richard Chang)
© Thomson Reuters 2023 All rights reserved.