China exporters see potential at home
By Jason Subler and Zhou Xin
DACHEN, China (Reuters) - Like prodigal sons, China's exporters are returning home to sell their products as global economic gloom takes a toll on their overseas orders.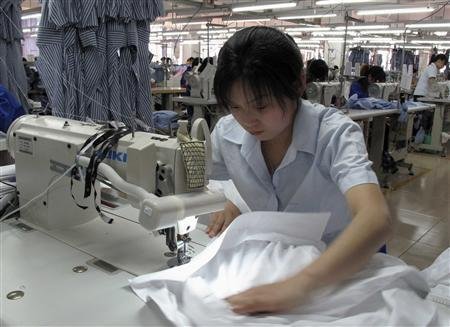 Yet exporters of goods ranging from apparel to electronics are hardly finding a fatted calf laid out for them.
Despite a track record in manufacturing products to global standards for leading brands, many are finding it tough to tap into China's domestic market due to cut-throat competition, lack of local brand names and poor domestic distribution networks.
Zhejiang Berkam Garment Co, a clothing company that has long manufactured shirts for Western brands such as Italy's Benetton, recently launched a domestic line of men's shirts under the label "Brioso."
"We did a tour of the U.S. and Europe last year and saw how bad the situation there really was, so that made us determined to focus more on the home market," said Chen Jianguo, the company's vice chairman.
"We'd been thinking of doing so for some time, but that gave us the final push to decide to launch our own brand," he said in a spacious conference room in the factory, located in Dachen, a major centre for shirt makers in eastern Zhejiang province.
Berkam plans only a gradual shift away from manufacturing shirts for Western brands, as an abrupt shift in the firm's business model would be too risky.
Still, the company hopes that demand for its local shirt line will soon start to make up for the drop in export orders caused by the global slowdown.
It aims to sell at least 1 million shirts with the Brioso logo this year via contracted agents, or roughly 10 percent of its current annual output, Chen said.
"It's an ambitious target because we've missed the spring and summer sales season, so we'll have to hope for the best in the autumn and winter season," he said.
Firms such as Berkam can expect plenty of company, said Paul French, chief China analyst with retail consultancy Access Asia in Shanghai.
"It's classic China. Everyone will do it, and all of a sudden there will be more shirt shops than you can shake a stick at. But you won't have heard of any of them and the only people who sell shirts will still be people who've got the brand," French said.
The main routes for clothing companies to break out of the pack will be to go through the laborious and expensive process of building their own brands or buying existing ones, he said.
Many are likely to drop out of the race, as they are not ready or able to put up the investment needed to do so.
"I think at the moment it's a kind of panic strategy," French said. "I'm not quite sure, from the ones I've talked to, that they quite understand what that will involve."
PLUNGING EXPORTS
Chinese exporters in a range of sectors have good reason to look for new markets to offset the drop in consumer demand in North America and Europe, which has taken a hefty toll on their order books.
Garment exports dropped by 5 percent in the first quarter from a year earlier, but that was actually less than the nearly 20 percent fall in overall exports in the first three months.
The high-tech goods sector fell even more sharply, by 23 percent, giving electronics producers an incentive to look to the Chinese market as well.
While the economy is still overly reliant on investment and exports, consumer demand is still steadily expanding.
Retail sales grew 21.6 percent in 2008, helped by growing incomes and government programmes to encourage sales of consumer goods in rural areas.
Still, firms face hurdles in focussing on the domestic market, said Michael Gao, a salesman with Chaowei Industry, a maker of electronic gadgets, including talking alarm clocks, based in the southern boom town of Shenzhen.
For one, the tax rebates Beijing offers to spur exports of goods such as textiles and electronics mean that companies are forced to raise prices for their domestic clients, Gao said on the sidelines of the Canton Fair, China's top trade fair.
"We have no choice," Gao said. "At the very least, our prices are 15 percent higher for domestic buyers."
A difference in business culture also makes the transition difficult, Gao said.
"Domestic clients are very different. Be it the quality of the products, the quality of the clients themselves, or the size of the orders, these all tend to be worse than for overseas buyers," he said.
Even the Commerce Ministry, which has been encouraging the shift to the home market with a range of policies, including allowing domestic buyers into the Canton Fair for the first time this year, admits there are obstacles.
The ministry is looking into how to improve logistics networks to make the transition easier for export firms, state television said recently in a report on the Canton Fair.
It said many companies were also wary of selling to domestic suppliers out of fear they will steal their intellectual property, a long-standing complaint of foreign firms in China.
VARIETY
Regardless of the difficulties, one beneficiary of the increased attention is the Chinese consumer.
With more goods that would once have landed in the West showing up on China's own shelves, shoppers are finding they now have more choice from a broader range of high-quality products.
Huang Shanshan, an office worker in Beijing in her late twenties, said she was impressed by the variety of specialised cooking utensils, umbrellas and other wares that had cropped up at some of her favourite shops in the last few months.
"It's a good thing, because it's like a mind opener," Huang said. "I never thought I'd need things like this, but after seeing them, I think it would be quite nice to have them."
She had one complaint, though, about the swimsuits on offer: they weren't designed with her physique in mind. "Because they are made for foreigners, the size is too big," she said.
(Additional reporting by James Pomfret in Guangzhou; Editing by Megan Goldin)
© Thomson Reuters 2023 All rights reserved.