Buyout investor SVG unveils cashback plan
Permira, which has invested in fashion groups Hugo Boss and Valentino, has only seen valuations on its fourth buyout fund climb back above par after heavy writedowns in 2009, when the sector was reeling from the credit crisis.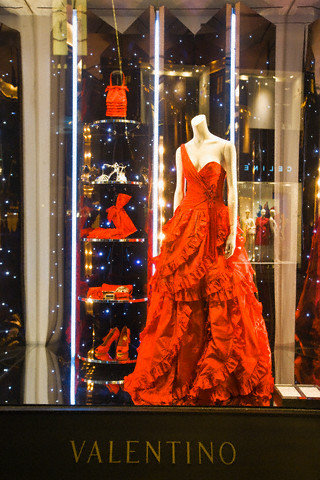 Valentino Shop on Via Montenapoleone, Photo: Corbis Images
Shares in SVG -- which puts 80 percent of its capital into Permira -- are trading far below their Net Asset Value (NAV), a widely used industry benchmark to measure the worth of an investment portfolio per share.
But at 1224 GMT, the shares had shot up 21 percent to 200 pence, making SVG easily the best performer in the FTSE 250 mid-cap index .FTMC. It is now roughly back where they were it was at the beginning of 2011, though still 40 percent below NAV.
"We believe that these proposals should be well received by shareholders as they involve an immediate return of cash, rather than just a promise," brokerage Numis said in a note.
Listed investors such as SVG have suffered not only from their indirect exposure to heavily indebted private equity-owned companies, but also from the fact they themselves borrowed money to boost performance in their funds.
SVG, seen as a listed proxy for Permira, said it would launch a 50-million pound tender offer for its shares, priced well above its deeply discounted share price.
The tender is likely to be priced at a 10-20 percent discount to NAV at the end of the year, which some analysts estimate at 300-320 pence a share.
The remaining 120 million pounds will be returned through share buybacks or other tenders, SVG said. It first announced it was considering share buybacks in August.
AWAY FROM PERMIRA
The company, which is led by Lynn Fordham, also outlined plans to diversify away from Permira, with which it has historically had close ties, and shares a common ancestry.
Over the next five years, SVG intends to invest with six to eight leading international private equity firms, CEO Fordham told Reuters in a telephone interview.
"It's not going to be a diversified fund of funds, you want to still be able to give people a look through to what those investments are," Fordham said.
SVG is targeting 5 percent outperformance of public markets over a rolling 10-year period, in line with the returns most private equity investors seek.
The group will be looking for the ability to co-invest in certain deals alongside the private equity firms and a place on the advisory committee, an influential position reserved for some of the largest investors.
New investments, including any commitments to Permira's forthcoming fifth fund, will depend on SVG's available cash.
"We are very positive on Permira, we have done due diligence," said Fordham. "But this is driven by our balance sheet and our available cash to invest, not the closing time of other people's funds."
Permira, which started life as Schroders Ventures, is hoping to raise some 6.5 billion euros ($8.46 billion) for its fifth buyout fund, in line with amounts targeted by peers such as BC Partners and Cinven.
($1 = 0.6439 British pounds)
($1 = 0.7682 euros)
(Additional reporting by Myles Neligan, Editing by Douwe Miedema and David Hulmes)
© Thomson Reuters 2023 All rights reserved.