Australia's Myer sees H2 sales topping forecast
By Sarah Morris
BARCELONA, May 7 (Reuters) - Australia's largest department store chain Myer Ltd said on Thursday sales for the first eight weeks of its second half improved thanks to increased spending on marketing and a government stimulus package.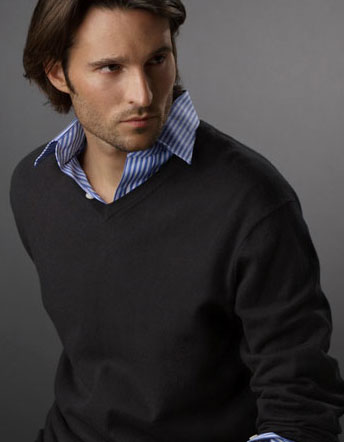 Myer men's fashion Winter 2009
"For the first eight weeks of the (second half) we were down 2.5 percent," Chief Executive Bernie Brookes told Reuters in an interview at the World Retail Congress in Barcelona.
In the six months to Jan. 24, the first half of its financial year, Myer's sales fell 3.7 percent.
The pick-up in consumer spending at its 65 department stores means the company is likely to beat its prediction that second-half sales will come in 5 percent lower.
"If after eight weeks we're 2.5 percent down, it goes without saying that things have got to get much worse before we have minus 5 overall," Brookes said.
The firm's second-half earnings are likely to be flat on last year, he said.
Myer's improved sales compare to those of rival department store David Jones (DJS.AX) which posted a 9.2 percent fall in total third quarter sales.
"David Jones have really niched in to a premium market selling premium cosmetics and apparel," said Brookes. "That's those customers which rely on equity markets, superannuations. They were the ones who fell off a cliff."
Myer doubled its spending on advertising in February, March and April, a campaign that cost more than A$14 million ($10.6 million).
It increased its direct mailing and campaigns to its loyalty card holders, offering them extra points on particular days. It also changed from a strategy of percentage discounting on all products to one of selling particular products for particular prices on specific days, such as A$50 trouser offers.
"We actually spent less money on mark downs by cutting one or two products than the whole lot," Brookes said.
The company has increased its margins due to smarter discounting and negotiating better prices on stock from China, Brookes said.
"When American and European companies eased back on their purchases from China we saw it as an opportunity to go in and take advantage of those factories that were finding it a bit difficult to get volume and grab extra stock at better prices."
Australia on Wednesday reported robust retail sales for March, which rose 2.2 percent with department stores the biggest winners with sales up more than 13 percent.
However, Brookes was cautious about the outlook for the retail sector.
"In Australia, you're going to see a gradual increase in unemployment ... you'll see consumer sentiment is not picked up by government stimulus and that'll mean things are really subdued," he said.
"I think February, March, next year we'll start to see a revitalisation of department store sales."
Asked about Myer's plans for a possible listing on the stock exchange, Brookes said "I don't think it will be in the next 12 months, but we'll probably review it after Christmas."
(Reporting by Sarah Morris; Editing by Richard Hubbard)
(([email protected]; +34 91 585 8328; Reuters Messaging [email protected]))
($1=1.322 Australian Dollar) Keywords: MYER/
(C) Reuters 2009. All rights reserved. Republication or redistribution ofReuters content, including by caching, framing or similar means, is expresslyprohibited without the prior written consent of Reuters. Reuters and the Reuterssphere logo are registered trademarks and trademarks of the Reuters group ofcompanies around the world.nL7418422
© Thomson Reuters 2023 All rights reserved.