Arcadia year profit falls 6 percent
LONDON (Reuters) - Arcadia fashion group, owned by Philip Green, posted a 6.1 percent fall in full-year operating profit Tuesday and did not pay a dividend for the third year running.
The results were published as Green continued his dialogue with troubled Icelandic investor Baugur, Icelandic banks and the government of the north Atlantic island to acquire much of Baugur's debt, estimated at over 1 billion pounds.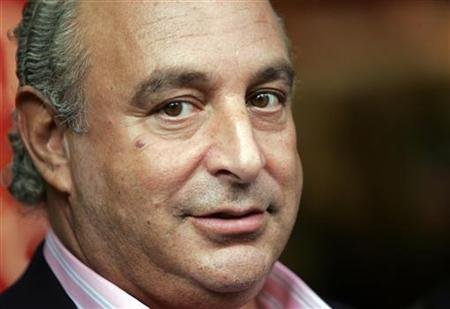 Buying Baugur's debt would give Green considerable influence over the investment group's fashion interests, which include Jane Norman, Whistles and a 49 percent share in Mosaic Fashions -- owner of Oasis, Principles, Karen Millen, Warehouse and Coast -- as well as supermarket chain Iceland and iconic toy store Hamleys.
For the year to August 30 Arcadia, which owns seven high street fashion brands, made an operating profit of 275.3 million pounds, down from 293.3 million pounds last time.
Total sales from over 2,500 UK stores and 447 international franchise stores fell 0.6 percent to 1.85 billion pounds.
On a like-for-like basis, which strips out the impact of new space, sales were down 2.8 percent.
"Our leading fashion brands, Topshop, Topman and Miss Selfridge, had an excellent year producing record turnover and profit. The mainstream brands (Burton, Wallis, Dorothy Perkins and Evans) had a more challenging time being additionally impacted by the unseasonal conditions," said Monaco-based Green.
Many retailers are struggling as consumers curb spending due to higher fuel, food and mortgage costs. Fashion retailers have also had to cope with two consecutive summers of dismal weather.
Arcadia's turnover in the first seven weeks of its new financial year was down 1.8 percent.
As was the case in the previous two years no dividend was paid as the group focuses on paying down its debt and investing in the stores.
During the year debt was reduced by 76 million pounds to 695 million pounds and 84.8 million pounds was invested in new space and business systems.
In 2005 Arcadia paid out a record 1.3 billion pounds dividend after Green massively geared-up the business.
In the current year the group plans to increase its UK trading space by a net 210,000 square feet. A further 58 overseas franchise stores are planned, including a flagship Topshop store in New York.
Green acquired Arcadia for 850 million pounds in 2002. His family owns 92 percent and the balance is owned by HBOS Plc, which backed the takeover.
He also owns the Bhs department store chain, which earlier this month reported a 40 percent decline in full-year operating profit.
The entrepreneur has twice tried and failed to buy Marks & Spence, the latest attempt in 2004.
(Reporting by James Davey; Editing by Erica Billingham and Hans Peters)
© Thomson Reuters 2023 All rights reserved.